Home of the giants
According to Norse mythology, Jotunheimen was the place where the Jotner lived. These gigantic creatures, later also called trolls, regularly clashed with gods like Thor in the mountains of Jotunheimen (literally 'home of giants').
The Besseggen hike
Today, Jotunheimen is a national park and it includes all of the 29 highest mountains in Norway. The mountain ridge Besseggen is Jotunheimen's most popular day hike with amazing panoramic views. Each summer, some 60.000 visitors walk the ridge in a strenuous 6-8 hours climb.
The route can be walked in two directions, but most visitors take the Gjende Ferry to Memurubu, a twenty-minute scenic cruise, and hike back across the Besseggen ridge to Gjendesheim. This 1km long ridge between the lakes Gjende and Bessvatnet is what makes this hike so spectacular; the dark lake Bessvatnet is elevated 400m above the turquoise lake Gjende and all that separates them is the narrow Besseggen ridge. The views from Veslfjellet at 1743m are simply mindblowing.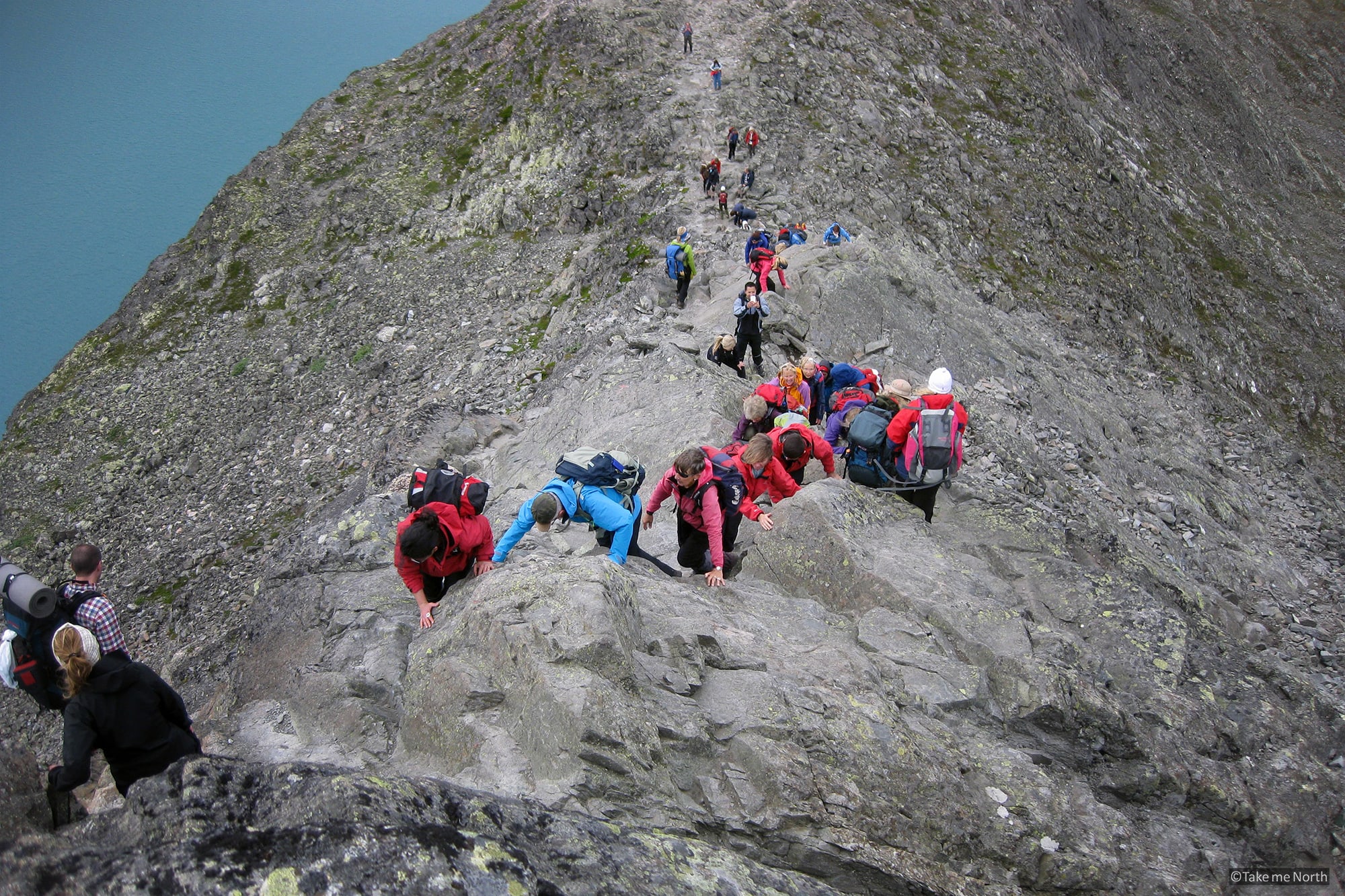 Besseggen can be hiked roughly June to October, depending on snow conditions. The ferry service operates daily between mid-June and mid-September (reserve your ride in advance!). Time tables can be found at https://www.gjende.no. Norwegian Trekking Association (DNT) offers lodging and meals at both Gjendesheim (185 beds) and Memurubu (accommodation for up to 150).
| Hike details | |
| --- | --- |
| Hike Distance: | 14km (Memuburu - Gjendesheim parking) |
| Elevation: | 1200 up, 1200m down |
| Duration including some breaks: | 6-8 hrs |
| Best season: | mid June - mid Sept |
A shorter route
There is a shortcut to the traditional route that is about an hour shorter and does not require the ferry service. This route follows a path along the shore of lake Gjende in the direction of Memurubu and about halfway it takes a steep goat path up to Besseggen. This section of the route is not marked so tread carefully at these steep slopes!