This post is about a journey that has not happened - yet. In autumn 2019 we will embark on a sailing trip along the northern coast of arctic Spitsbergen. If weather permits, we'll be sailing from Longyearbyen towards the historical whaling site Smeerenburg. Walruses, whales, polar bears, glaciers and beautiful sunsets are all on the photographic wishlist.
This week we got to get acquainted with the ship in the harbor of Franeker, where the owner, the Dutch family business Tallship Company resides.(https://www.tallship-company.nl/)
History of the Antigua
Antigua has a long history in European waters. It was built as a fishing boat in 1957 by the Richard Dunston Shipyard in Thorne (Yorkshire, Great Britain). After the ship was decommissioned in the 90s, it was converted to a characteristic three-master with attention to details. Antigua was configured as a barkentine, which means that the foremast is square-rigged while the main and the mizzen masts are rigged fore-and-aft. This configuration allows the ship to be operated with both efficiency and speed.
During winter 2015/2016, the ship underwent another spectacular renovation; it was cut in half and an 8-meter section was welded in between.
The improved ship now has 16 Cabins with private bathrooms, accommodating a total of 32 passengers. Every summer the Antigua sets sail towards the Lofoten and Spitsbergen. This year we'll be on board!
| Barkentine Antigua | 1957 |
| --- | --- |
| IMO | 5019800 |
| Flag | The Netherlands |
| Length | 49m |
| Width | 7.0m |
| Draft | 3.0m |
| Tonnage | 210 metric tons |
| Sail area | 750 Sq m. |
| Main mast | 31m |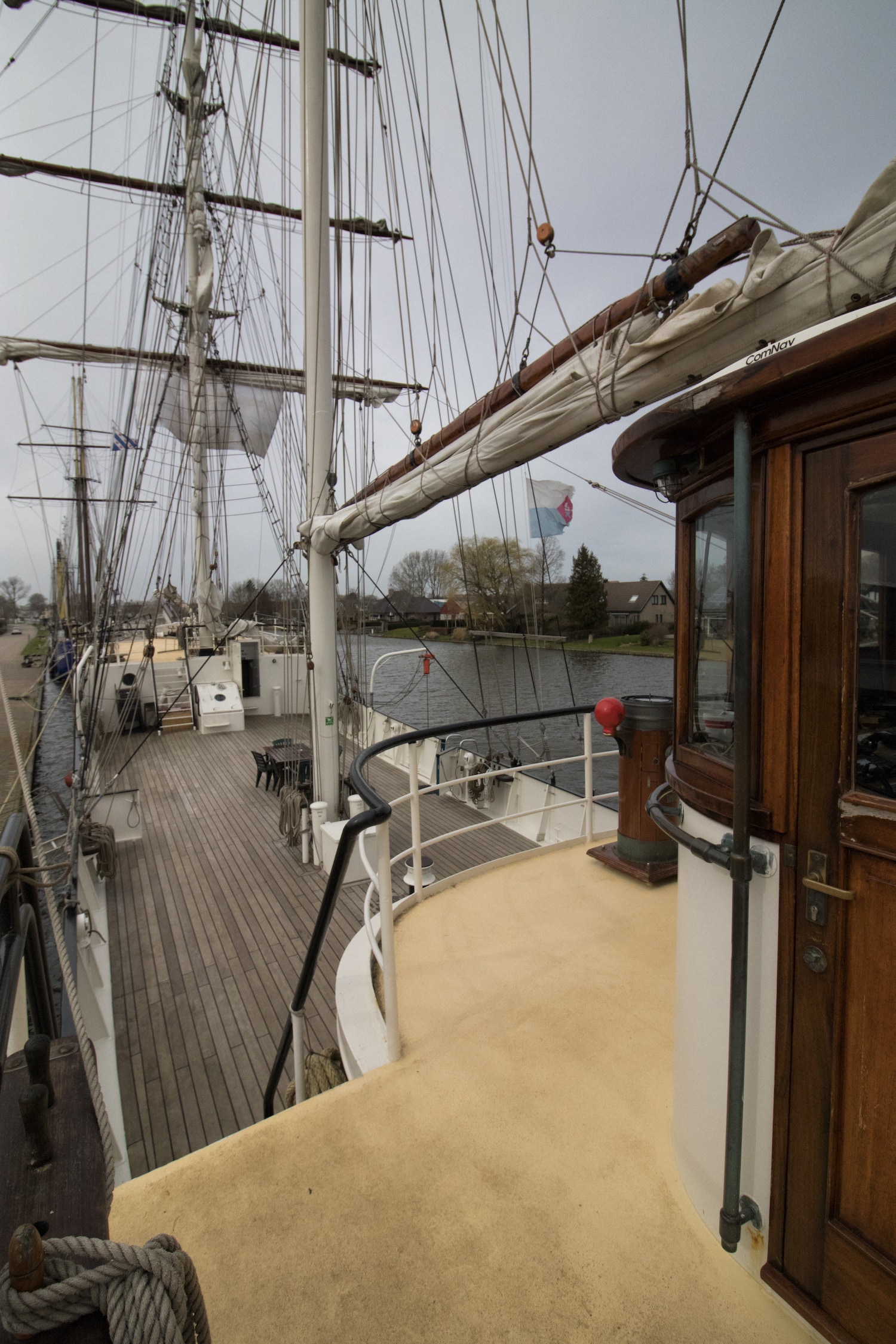 Association of Arctic Expedition Cruise Operators
Tallship Company is a member of the Association of Arctic Expedition Cruise Operators (AECO), an organization that ensures that cruise tourism in the Arctic is carried out with the utmost consideration of the natural environment and local cultures. This means that all travellers on board of the Antigua must live by those rules as well. Some examples:
Drone photography/filming is forbidden.
It's is not allowed to break fjord ice with a ship once it is frozen.
Leave no trails, leave historic sites untouched.
Cairns may be signposts – do not alter them and don't make new ones.
Where's the Antigua right now?
Modern satellite- and web-technology allows us to track ships in real-time. Actual position information on the Antigua can be found on www.marinetraffic.com, which is a pretty cool platform you can use for free. The following map shows the current location of the Antigua, and a trace of the last 24 hrs: